Quality
For Food Blending, quality is an absolute top priority, which is why we have rolled out a strict quality policy. We place high demands on our employees and suppliers to strictly adhere to quality procedures during the entire production process.
Building
Food Blending is located in a new state-of-the-art production facility. Our mixing lines are equipped with the latest measuring equipment to guarantee the quality of our services at all times.
With our development and quality centre, we have a wide range of equipment to carry out quality checks according to the strictest standards. This applies to both incoming raw materials and outgoing mixtures.
ERP and WMS
As part of our quality policy, we have implemented a high-performance ERP and Warehouse Management System adapted to the food sector. This guarantees maximum traceability. Each shipment that leaves our premises is given a unique number that is linked to the internal processes and ingredients used.
Certificates
Food Blending has a BRC FOOD & TRADING Certificate
In addition to the traditional quality systems, Food Blending has Organic certification. Kosher and Halal are also among the possibilities.
You can download our certificates by clicking on the logos below. For further questions on quality, please feel free to contact us.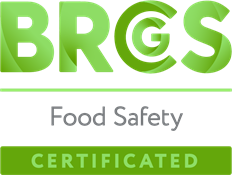 Would you like to receive our newsletter?